Next generation floating offshore wind power generation system demonstration research (OPTIFLOW)
現在、国立研究開発法人 新エネルギー・産業技術総合開発機構 (NEDO) の委託事業として技術開発を進めている、次世代浮体式洋上風力発電システム実証研究と並行して、さらにその先の未来を見据えた、新たな次世代浮体式洋上風力発電システムの実証研究も行っています。広島県倉橋島の沖合での1/10モデルによる実海域試験を終え 、1/1実証機の導入に向けたフィージビリティスタディ行っていきます。
一点係留方式による風向追従性を利用してヨー制御システムを排除し、軽量化されたナセルやセミサブ型浮体と合わせて、設置、運用コストの低減を図りつつ、6MWの高効率な発電の実現をめざします。再生可能エネルギーの切り札となるべく、次世代の浮体式洋上風力発電システムとして2030年の発電コスト15円/kWhを目指し開発を進めて参ります。
In addition to the demonstration research on Next-generation floating offshore wind power generation system initiated by NEDO, we are working on another empirical research project commissioned by NEDO, which requires us to investigate the next-generation floating offshore system:
Having conducted an on-site offshore test with a 1/10 model off the coast of Kurahashi Island, Hiroshima Prefecture, we are carrying out a feasibility study for realization of a 1/1 demonstration unit of our OPTIFLOW concept.
In our OPTIFLOW concept we are replacing the nacelle-yaw control system by a single-point mooring system, which leads to an automatic self-alignment of the entire floating body coping with any wind-direction change. Along with a downsized nacelle and a semisubmersible floating body, we are aiming to realize high efficient power generation – turbine with a nominal power of 6 MW, while reducing cost of construction, operation and maintenance. We make our best effort to exceed the official project target of "15 yen/kWh in power generation cost in the year 2030" with more advanced technology in practical use.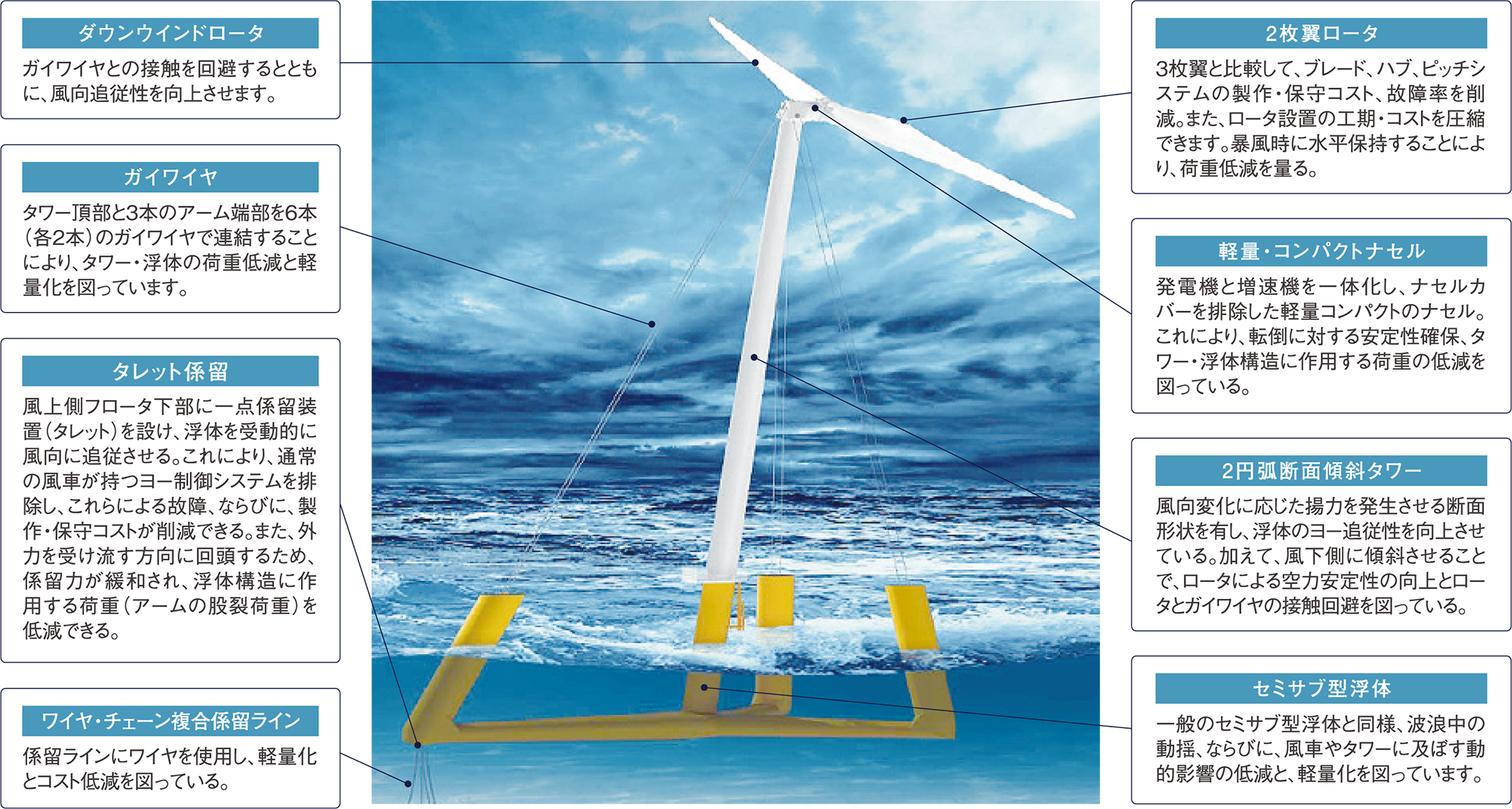 [Downwind rotor] avoids contact with guy wires and improves wind-direction trackability.
[Guy wire] realizes load reduction and weight saving of tower and floating body by connecting tower top and both ends of 3 floaters with 6 guy wires (2 wires to each floater).
[Turret mooring] A single-point mooring device(turret) is provided to the bottom of the upwind floater to make the floating body passively self-aligning coping with any change of wind direction. This can eliminate the yaw control system from the nacelle of a conventional wind turbine, and consequently get rid of malfunctions of its components as well as its manufacturing and maintenance costs. In addition, the loads acting on a submerged single-point mooring system are lower.
[Wire-chain combined mooring line] Wires are used for mooring lines to reduce weight and cost.
[Two-bladed rotor] Reduced production, maintenance cost and failure rate of blades, hubs and pitch systems compared to three wings.In addition, the installation cost of the rotor installation can be reduced. The load is reduced by holding horizontally at the time of storm.
[Lightweight and compact nacelle] A lightweight and compact nacelle that integrates a generator and a gear and eliminates the nacelle cover. In this way, stability against overturning is ensured, and the load acting on the tower and floating structure is reduced.
[Two-arc section inclined tower] It has a cross-sectional shape that generates lift in response to changes in wind direction, and improves the yaw followability of the floating body. In addition, by inclining to the downwind side, aerodynamic stability is improved by the rotor and contact between the rotor and the guy wire is avoided.
[Semi-submersible floating body] The semi-submersible floating body reduces wave-induced motion and its impact on the RNA and the tower.

仕 様
メーカー

株式会社グローカル
Glocal Corporation

定格出力

6MW

ローター径

140m

型式

ダウンウィンド型 SCD6MW
Downwind type SCD 6 MW

ブレード枚数

2枚
2 blades

ハブ高さ

95m
型式

一点係留セミサブ型
One point mooring semi-sub type

寸法

長さ88m×幅90m×高さ110m(タワー含む)
Length 88m x width 90m x height 110m (including tower)
係留方法

タレット係留
Turret mooring

設置方法

ワイヤー+チェーン+ドラッグアンカー
Wire + Chain + Drag Anchor

係留本数

6本
6 bottles
※これは、国立研究開発法人 新エネルギー・産業技術総合開発機構(NEDO)の委託業務の成果を一部活用しています。
※ This includes some of the findings from the research commissioned by the New Energy and Industrial Technology Development Organization (NEDO).